Dr. Do Ngoc Quang, a lawyer, made the statement during a recent interview with the Vietnam Television.
His comments came after Deputy Prime Minister Nguyen Xuan Phuc's recent announcement that around 30% of state officials do not work during the working hours.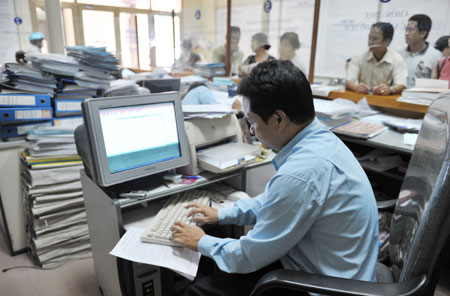 Illustrative photo. Irrelevant payroll policies discourage employee engagement
"When I was deputy director of the People's Police Academy, we conducted a survey and announced these statistics but no one took notice at the time. The recent announcement by Deputy PM Nguyen Xuan Phuc has stirred up public concerns over the efficiency of state officers as many don't work but continue to get paid, causing losses to the state budget and eroding public confidence," Quang noted.
He attributed the situation to the lack of a criteria-based system of job requirements for state officials. Under the current payment policies for state officials, new-comers often get much lower pay than those who have longer tenure, even though the newer employees often do the same or even more complicated jobs and are more efficient.
"Due to the lack of a clear criteria system, there are often more employees than needed, which leads to employees not taking responsibility and being slack in their duties. Many state officers don't try to improve themselves or work more efficiently, so it's easy to understand why up to 30% of state officials failed to pass a recent exam by the Ministry of Home Affairs for promotions," he commented.
He said that payment for state officials should be decided on a merit-based system and the complexity of the job, and that salaries should be enough to cover living costs.
Redundancy in the workforce has resulted in a reliance on others to complete tasks while low payment for those who have lower seniority forces those employees toward corruption to earn a decent living, he added.
"It's really necessary that the government restructure the payment system so it is based on tasks performed. The current policies discourage new-comers from improving themselves or devoting themselves to the job. Due attention should also be paid to the supervision process to review the efficiency of state employees and make timely adjustments," he recommended.
In addition, to date leaders have yet to make estimates of their human resource needs, so they tend to recruit more people than they actually need. Some even take bribes in exchange for granting employment to unqualified people.